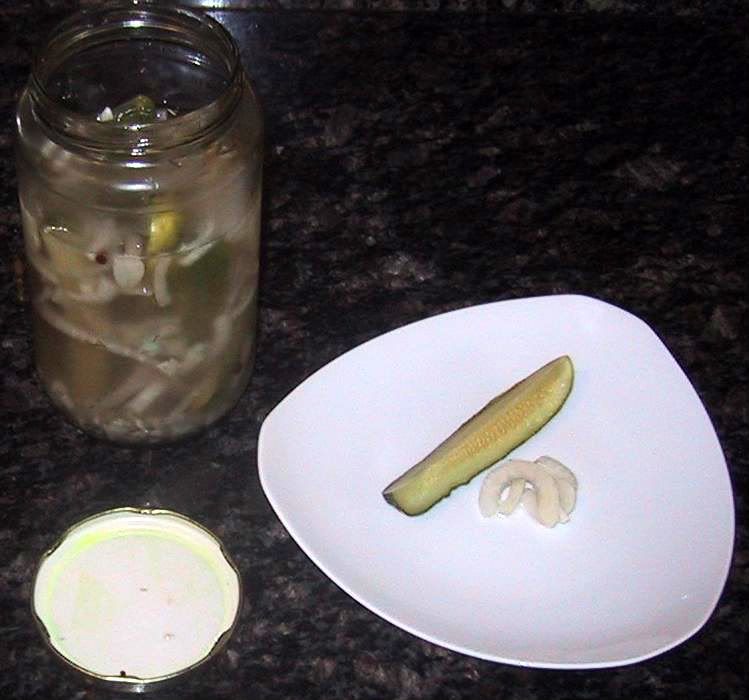 In the warm months we love our fresh fruits and vegetables. One of my favorites is the cucumber. I use them in a variety of salad dishes to bring that light and fresh taste to summer fare. As the season gets into full swing I also think about pickles to preserve the fruits for use in the colder months.
Some restaurants we frequent seem to pickle just about everything to accompany a gourmet sandwich. Case in point is
Hog Island Oyster Bar
in the Ferry Building in San Francisco and now also at the
OxBow Market
in Napa. They make a grilled cheese sandwich that is the best I have ever tasted, which always gets served with some pickle or other. The tart flavor of the pickle is a perfect complement to entrees that contain fat like cheese and meats.
The easiest pickling method is to use a vinegar and brine mixed with spices. This is also safer than the fermentation method, which I will cover in a future blog (great for deli style dills and sauerkraut). The vinegar and salt kill the bacteria in the pickle mixture and prevent lactoid fermentation.
Here's a recipe for dill pickles that you can use for pretty much anything you want to pickle. The great thing about this recipe is that it only takes three days before you are enjoying your pickles.
Vinegar Dills
Sterilize a 1 quart jar and lid with boiling water
Ingredients
6 or so pickling cucumbers (or zucchinis, carrots, radishes, etc, enough to tightly pack the jar)
1/2 red onion thinly sliced
2 garlic cloves peeled and sliced
1/2 teaspoon mustard seeds
1 handfull fresh dill
1 1/2 cups water
1/2 cup cider vinegar
2 tablespoons kosher salt
Method
Boil liquids to dissolve salt and cool.
Once cool, set pan with brine in an ice bath to bring temperature of liquid near freezing (this is what keeps the cucumbers crisp so they still have a crunch after pickling)
Wash and remove stems from cucumbers and then make spears by slicing into quarters lengthwise.
Stuff the jar with the cucumber spears, sliced onion and garlic. Make sure to pack tightly so the cucumbers don't float up after adding the brine.
Pour the brine over the pickles and seal the lid. Set the jar on your counter for three days turning occasionally. Then refrigerate. The pickles are ready to eat and can be stored in the fridge for a year.
Stacy and John Murphy host an instructional, nutritious, and fun
hands-on cooking class
one or two Saturdays each month using ingredients that come fresh from the San Francisco Farmer's Market.