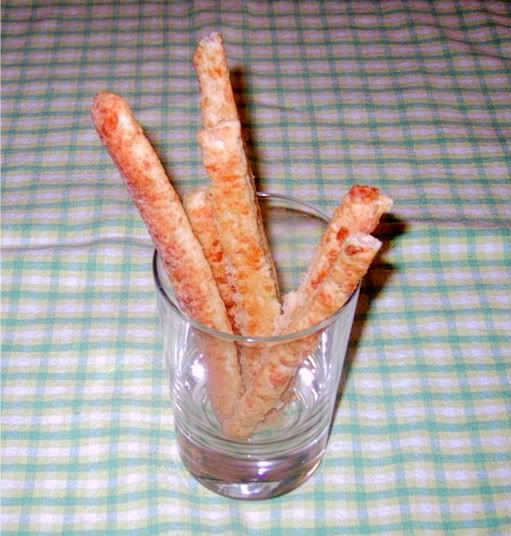 Throwing a dinner or cocktail party can be stressful, particularly for the one that cooks all of the food. I am always looking for gourmet appetizers that are easy to make ahead of a party. My neighbor Kathy has been a caterer for many years with that seasoned wisdom that comes from "been there done that". She brought these to a dinner party at our house and Stacy fell in love with them. She recently gave me the recipe which I tried for the first time yesterday. These are incredibly easy to make! Essentially it is a cheese biscuit dough rolled out and cut into strips. These versatile munchies will be used as a garnish for a scallop on zucchini sauce dish we are making this Saturday in our
Summer Fruit
meetup
.
Here's the recipe:
McHardy

Lodge Cheese Straws

¾ Cup flour
1 teaspoon baking powder
2 oz cubed butter (make sure it is cold. I have seen cooks grate frozen butter for biscuits)
a shake of salt and a fresh grind of pepper
pinch of mixed herbs
pinch of chili powder
¾ cup grated sharp cheddar cheese
About 1 tablespoon milk
Method:
Pre
-heat oven to 400
in food processor pulse all ingredients to mix - it will look like coarse corn meal
add ¾ cup grated sharp cheddar cheese and pulse again
add enough milk to combine so the dough comes together without being wet
Be sure not to overwork the dough after adding the milk. The less manipulation the lighter the biscuits will bake.
roll out on floured board
cut into straws or biscuits
bake at 400 degrees until browned about 10 minutes
Enjoy!